Scale Restaurant
A world class restaurant right on the ground floor of MAP hotel.
The Story
Scale is the main feature on every map
Scale, as it's the ratio of a distance on the map to the corresponding distance on the ground. A scale is used to measure the weight of an object while a balance is used to measure its mass.
By merging these variating meanings, we created SCALE – a world-class restaurant right on the ground floor of MAP hotel, Nicosia's first smart design hotel.
SCALE is inspired by our philosophy around balance. Balance in everything we do, think, taste and experience. We believe that balance is the secret to a fulfilling life. With SCALE, we measure our ingredients to create the ideal combinations that result in a perfect dish. We measure the distances a guest will travel as soon as they enter the MAP hotel's restaurant.
Breakfast hours: 07:00 – 10:00
Lunch hours: 12:00 – 15:00
Dinner hours: 19:00 – 00:00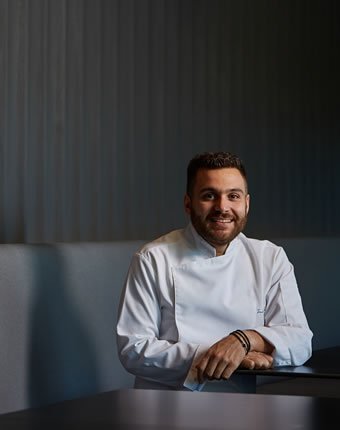 A True Culinary Experience
curated by the renowned Chef Dionysis Zacharopoulos
Our Chef, Dionysis Zacharopoulos, has managed to convey the whole ideology of SCALE Restaurant into one-of-a-kind creations, all summing up into contemporary Mediterranean cuisine.
The dining experience is completed by a carefully selected wine list and signature cocktails, that complement the food perfectly, and a distinct modern decor with an emphasis on picture-perfect visuals.