Scale Restaurant
A Culinary Cruise Around the Mediterranean
The hotel's restaurant
A fine-dining experience
Located on the ground floor of the hotel is the SCALE restaurant, a comfortable fine-dining experience steeped in the rich culture of the Mediterranean region.
The restaurant was designed around the concept of balance; a fundamental philosophy that we believe is the key to enjoying life.
SCALE is the perfect melange of meticulous haute-cuisine practices, with the playful twist of the island's boisterous flavors and signature zest for life.
Breakfast hours: 07:00 – 10:00
Lunch hours: 12:00 – 15:00
Dinner hours: 19:00 – 00:00
BOOK YOUR TABLE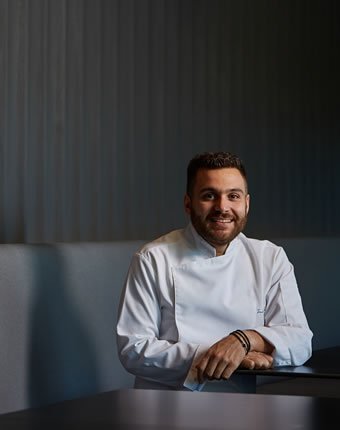 A Gourmand's Dream Come True
From the inspired mind of Chef Dionysis Zacharopoulos
SCALE's philosophy of balance is brought to life by the carefully curated menu courtesy of world-class Chef Dionysis Zacharopoulos.
The restaurant's dark, sophisticated interior is chic, yet unassertive, allowing for the true headliners to take center-stage: the flavors.
Combining unique recipes and divine regional aromas with the highest quality ingredients, Chef Dionysis Zacharopoulos creates a complete culinary experience bursting with character and class.
Paired with the finest international and local wines as well as SCALE's signature cocktails, each meal is a splendid sensory adventure.